Directed by Vishal Bhardwaj
Starring:
Priyanka Chopra, Vivaan Shah, Neil Nitin Mutesh, John Abraham, Irrfan Khan, Aleksandr Dyachenko, Annu Kapoor, Naseruddin Shah, Usha Uthup, Konkona Sen Sharma
Released:
2011
My Rating:
8/10
Warning: As the movie has been released just last month, most of you might have not seen it and I know the promos around it were rather mysterious. This review will be spoiler-free, but I do not want to influence your ideas on this movie in any way. But if you still want my opinion about it, I advice you to skip the first paragraph (the plot) and to read the rest.
Susanna Anna-Marie Johannes has had a life filled with pain, emptied by her mother's death at an early age then by her father's, who was also a mother, a brother and a friend for her. She then yearns for love, for this fatherly love in a husband.
Rather idealistic, she comes across reality in a rather harsh way, her lovers (husbands) have fatal flaws, and as she tries to find love, she has to kill them all... Now, it seems she has commited suicide, and a young forensic doctor Arun (Vivaan Shah), who has to confirm whether the body is hers or not, is forced to revive all his memories, for Susanna made him the man he is today...
I am usually not a fan of Vishal Bhardwaj's works, but for me, 7 Khoon Maaf marks a new trend. Dark comedy is almost inexistant in the Hindi cinema industry, and to some extent, that makes 7 Khoon Maaf very refreshing.
The minus point is the slow-pace of the movie, however you never lose interest in Susanna's search of love. Some scenes are also pretty disturbing and violent, though there is no graphic violence, that is probably what makes it even more unforgettable. The soundtrack, with the great exception of "Darling", is rather forgettable on its own, but it perfectly serves the story. No song is ever misplaced and all contribute to the atmosphere.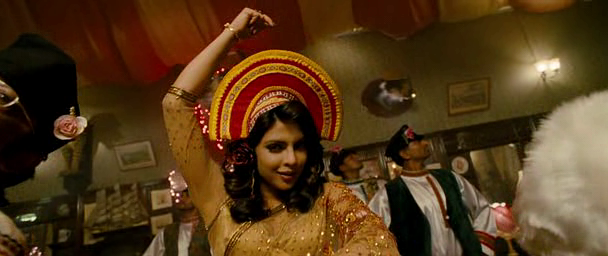 Daaaarliiiiiiiiiiing!
True, the story gets a little predictable after a while, we know Susanna is going to kill her current husband, but surprisingly, one cannot wait to see what is the actual reason behind it. We never lose touch with the story.
Another positive point of the movie is definitely its atmosphere. As written above, dark comedies are very rare in Bollywood, but 7 Khoon Maaf is a gem in the genre. There is a gentle and subtle touch of dark humour, which makes some scene priceless, and surprisingly, you can find yourself laughing several times. Creepy, isn't it? All the more so when you find yourself longing for some of the husbands' death, Susanna is, surprisingly, no villain to our eyes, most of her husbands were terrible men.
The performances are all very good. Every husband plays their part well, and are convincing. One can see they take the most that they can in their small and short screen-time space. One has to mention Vivaan Shah, the movie being his debut, who is the main attraction of it, besides Priyanka Chopra. He is natural and flawless, and one detects incredible charisma in him which, I am sure, will reveal itself in its future career. I am very positive on him going far and wish him the best.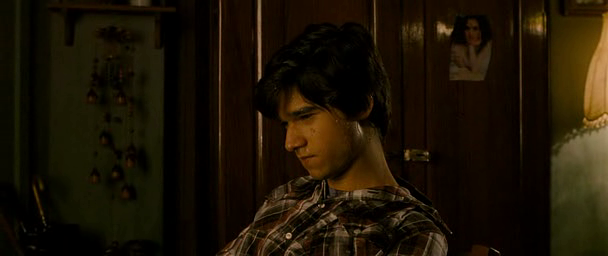 He is not only talented, but very handsome too!
Priyanka was terrific. Amazing, impressive... Well, many words can be applied on her performance. She proves she is the finest actress of her generation with 7 Khoon Maaf. She did not play Susanna, she was Susanna. Her body-language, her dialogue delivery, her every gesture and her every glance expressed every desires and feelings of Susanna. She made her a living and real person. Susanna is one very interesting character. You cannot hate her, you sympathize with her, but with horror, you still realise what she is doing is horrible and wrong. Somehow, Susanna is the epitome of womanhood; she is feminine, beautiful, mysterious, strong, level-headed and she has a heart. She is the "perfect" woman. But perfection does not allow the other to be flawed. And her husbands were flawed. Susanna needs the perfect man, the one who will accept her the way she is, the one who will be nice, gentle and faithful to her. The one who will give her everything, and to whom she will give everything...
A woman with hopes and desires...
7 Khoon Maaf is a must-see this year. This is, in a rather surprising way, a tribute to real love. Its originality, its performances and its story make it worthwhile. And of course, don't you want to know who is this mysterious 7th husband?