NB: When I say "best movies", I mean of course my favourites, hence I'm only entitled to my opinion. :)
Directed by Abhinav Kashyap
Starring:
Salman Khan, Sonakshi Sinha, Arbaaz Khan, Sonu Sood
My Rating:
7/10
If there is one movie of 2010 to mention, this is definitely Dabangg which easily became an all-time blockbuster. And why is it surprising? It had all the ingredients of a great success made in Bollywood. Great (and in the same time, funny) fighting scenes, great songs and a folk item number ("Munni Badnaam Hui" will be remembered for years), a beautiful heroine and a charismatic hero. I was glad to see an Indian movie being totally desi, with no NRI touch (which had become usual in Hindi movies of the last years). The one totally worthy of mention is, of course, Salman Khan. Dabangg is his movie. He carries it off perfectly on his shoulders alone. And he made the character of Chulbul Panday already cult. Surprisingly, this is a great movie but with a flawed script, there are some stupid (silly, idiotic, whatever) scenes (the fight scenes made me laugh so much and the hulk-like scene is unforgettable) but it has an old charm, it reminds you of the movies of late 80s and early 90s. This is Bollywood as most Hindi-cinema addict love it.
Directed by Maneesh Sharma
Starring:
Anushka Sharma, Ranveer Singh
My Rating:
7,5/10
Band Baaja Baaraat was the surprise hit of last year. Deservingly? A big YES. In a country where marriage is so important, it is such a pleasure to see a movie about wedding-planning. I will mention the soundtrack first, where the catchy "Ainvayi Ainvayi" gets the big mention. It is a joyful and memorable song which will stay in your ears for a long time. Points goes to the movie for its realistic portrayal of the characters (and of Delhi), in the way they talk, they make their choices, Shruti and Bittoo are characters one relates to. They are strong-minded young people, with dreams and desires to lead a life as they choose it. In that way, the movie is very modern, and yet still remains Hindustani at heart. What makes it a very good movie is definitely the performances, Anushka Sharma is natural and convincing as Shruti, she plays her part with ease and proves she is the best out of the lastest generation of actresses. Ranveer Singh could not give a better performance as a debut, and every awards he got for it were rightfully deserved. He has a charm which cannot be ignored. Moreover, Anushka and Ranveer makes a natural and lovely jodi, at ease with each-other.
This is Maneesh Sharma's directionnal debut and one can only praise him. This is a great romantic movie and one of the best romcoms of the few last years.
Directed by Karan Johar
Starring:
Shahrukh Khan, Kajol
My Rating:
8/10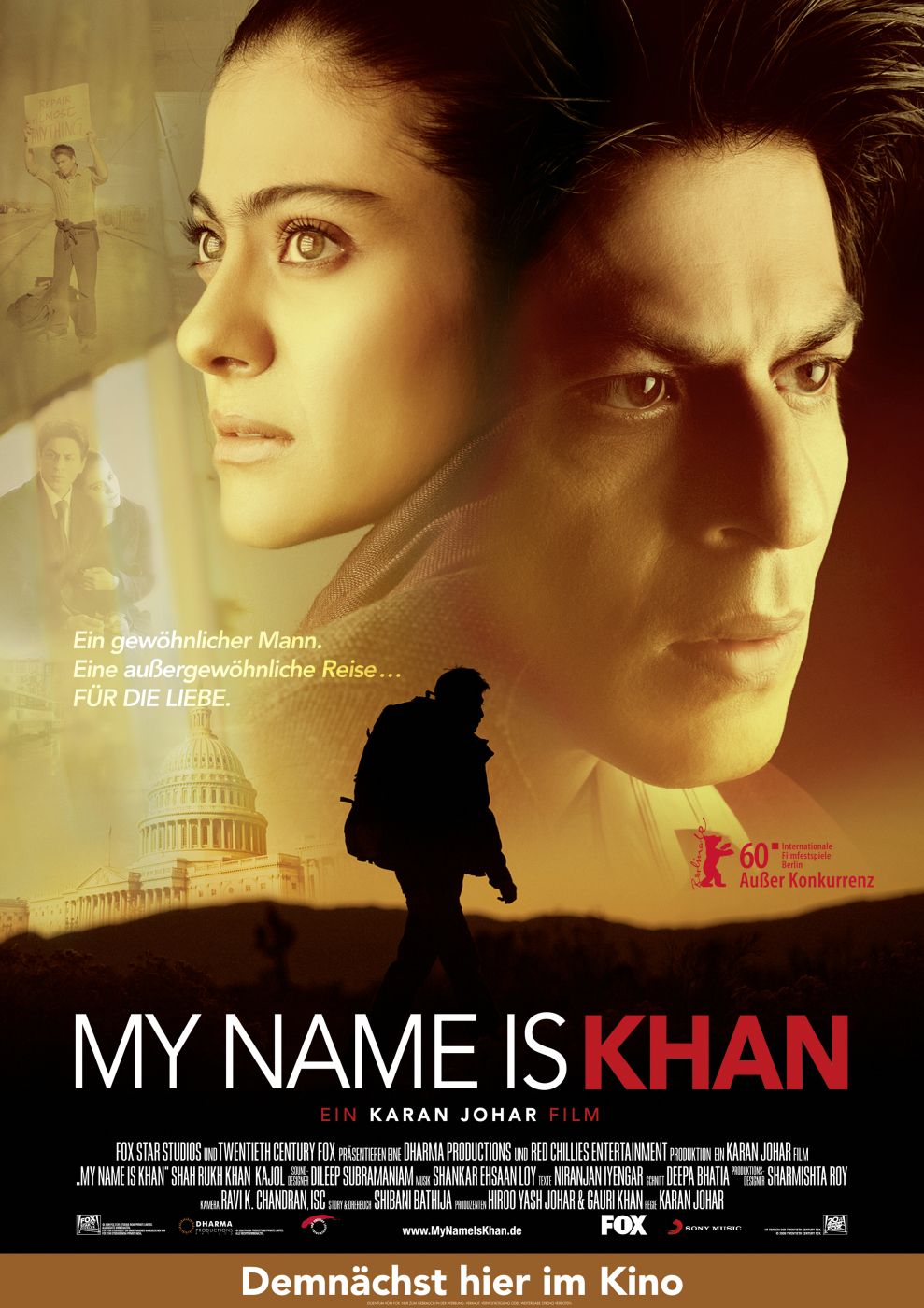 Here is a movie whose topic cannot let you insensitive, 9/11 attacks being events which marked the entire world. The story about a simple man, good at heart, with a simple message to the President of the US "My Name is Khan and I am not a terrorist" is one which will touch your heart. Shahrukh Khan gives here one of his best performances as the autistic Rizwan Khan. His gestures, his dialogue delivery, his standing... everything was the proof of a great actor, being only and only the character. Rizwan is a heart-warming character, and it is impossible not to melt before his naivety and his natural goodness. Kajol was great as the strong Mandira, you could feel her pain as a woman and a mother, and her will to fight which was very inspiring. One could reproach to My Name is Khan its simplistic message, but this is where the strength of the movie lies and also its (over)melodrama from times to times but this wears the mark of Karan Johar. The movie is a beautiful way to look at the world, Rizwan has a beautiful way to look at the world, and it warms one's heart to see a simple and beautiful movie like this one. It is definitely a human movie.
To you, what are the best movies of 2010? :)