Directed by David Dhawan
Starring:
Govinda, Anil Kapoor, Juhi Chawla, Johnny Lever
Released:
1997
My Rating:
5/10
Raja (Anil Kapoor) and his friend Ghafoor (Johnny Lever) are crooks who sell train-tickets on the black market in Amripur Station. One day, with the help of a corrupted police-inspector, they rob Rs 2.5 millions from the railway treasury. After bumping off the very inspector, free and rich, they run to Bombay. There they meet the beautiful Neha (Juhi Chawla), a psychiatrist, and within little time, Raja falls in love with her. But he needs to win her trust and friendship first...
Meanwhile, Dr. Neha gets a new patient, Bunnu (Govinda) who is afraid of (almost) everything. As he feels better and better, he also falls in love with Neha and soon finds a fierce rival in Raja... There starts many twists orchestrated by both Raja and Bunnu to win Neha's heart.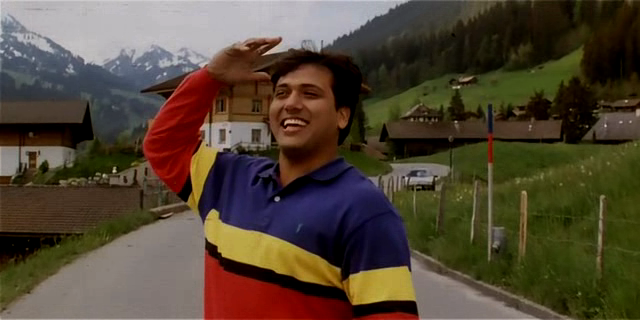 Joyful Bunnu
I expected a simple and entertaining movie. The first hour was rather pleasant and enjoyable, thanks to the pleasant screen presence of Juhi Chawla. She is an actress whose happiness and joy on screen show. But a little before the intermission, she slowly "disappears" to leave place to Govinda and Anil Kapoor.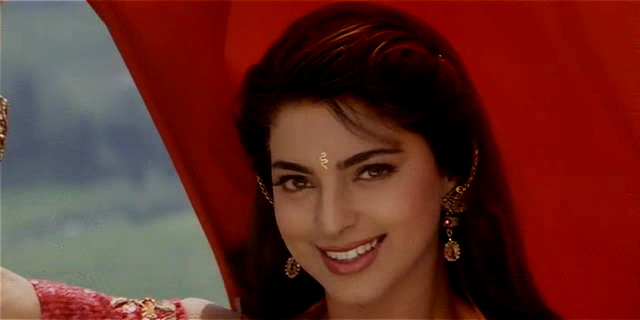 B E A U T I F U L !
This is where the film starts to be annoying. The jokes are "funny" in the first half, but it really gets boring and repetitive by the intermission. And the performances do not help to make the whole less annoying. Johnny Lever proves he is a side-kick who should be watched with moderation. I think he was given too much screen-space. Anil is, by no means, funny, and soon becomes cringeworthy, almost as much as Johnny Lever. Govinda is the only one, when it comes to the male leads, to give an enjoyable performance, and he was really sweet, but his character Bunnu soon reveals himself to be as much a looser as Raja.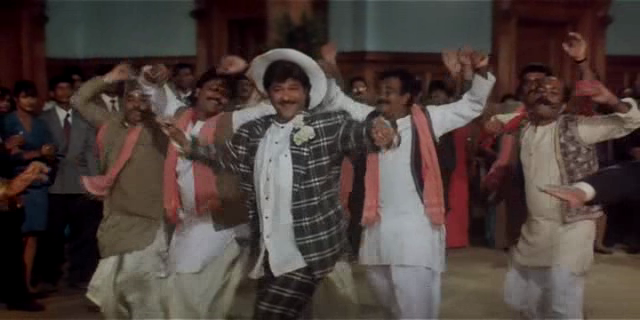 Anil being............ RIDICULOUS!
The plot is rather predictable. By the last thirteen minutes, you know what is going to happen. But still this is a movie which is not boring at all (even if you cringe at some of the jokes) and there are some good scenes. I have to mention the scene between Bunnu and Raja, when they try to convince the other to let go of Neha and when plenty of cinematic mentions are done, from Rangeela to Hum Aapke Hain Kaun without forgetting Dilip Kumar's Devdas all made in a great way. I am a Hindi-cinema obsessed lover, and I adore mentions of such classic and cult movies in films, they are always welcome.
The music is lovely and some tracks will stay in your mind a little, but it is not unforgettable. It is typical 90s-ish music, but still very pleasant to the ears. One I have to mention O mummy mummy o daddy daddy, not the song in itself (the lyrics are funny indeed) but the picturization is memorable, thanks to Govinda. He is a great dancer, his enjoyment and expressions are priceless, that is why I love watching him dance so much.
To sum up, Deewana Mastana is a cringeworthy movie, with jokes falling flat by the end of the first half. Watch it if you are a Govinda or Anil Kapoor fan, but if you cannot stand Johnny Lever too much, avoid.