Directed by Sanjay Leela Bhansali
Starring:
Shahrukh Khan, Aishwarya Rai, Madhuri Dixit, Kirron Kher, Jackie Shroff
Released:
2002
My rating:
10/10
Devdas can be considered as the Indian "Romeo and Juliet", a legendary and tragic love-story of modern times in India. And when it saw the light as a short novel written in 1901 by a young and drunk Sarat Chandra Chatterje, he did not know Devdas would definite the passionate and tragic lover when it would be published, more than a decade later, in 1917 (despite its strong objections). With Devdas started a new era, be it in Indian literature but also in Indian cinema, as a young P. C. Barua said "Devdas will make film history!" The novel, which is set in 19th Century Bengal, was the object of many movie adaptations, already in 1927 until our time, and the story still captivates millions of people. One of the most recent adaptations is the one by Sanjay Leela Bhansali released in 2002 which had a tremendous success in India, but also abroad as it made it to Cannes and created some interest from the West towards the Hindi cinema industry. The movie was praised and created a new era for the future and success of Bollywood in Europe.
Paro and Devdas - the epidome of tragic love-story
The story is not complicated. Devdas (Shahrukh Khan) and Paro (Aishwarya Rai) are childhood sweethearts. Devdas is sent to study abroad, in London, by a displeased father. Years later, he comes back as a grown-man while Paro blossomed into a stunning and celestial beauty. All those years, she yearned for his return, lighting up a lamp which no force on Earth can extinguish. What used to be childhood affection turns to passionate love. But, due to an argument between the two families and to Paro's lower social status, the parents of Devdas refuse even the slightest idea of marriage. After an argument with his father, Devdas runs away, leaving both home and Paro, and sends the latter a letter saying no love ever were between the two. Realizing soon he did a mistake, Devdas comes back to her on the very day of her wedding, with a much older man. Heart-broken, Devdas turns to alcohol and seeks solace from a courtesan, Chandramukhi (Madhuri Dixit) to forget his pain, and hence starts his self-destruction...
Devdas, my first Bollywood movie. The most beautiful cinematic moment I have ever lived. I shall never forget it. I still remember the shock and the amazement it provoked in me. From the beginning, I was hooked into a masterpiece larger than life.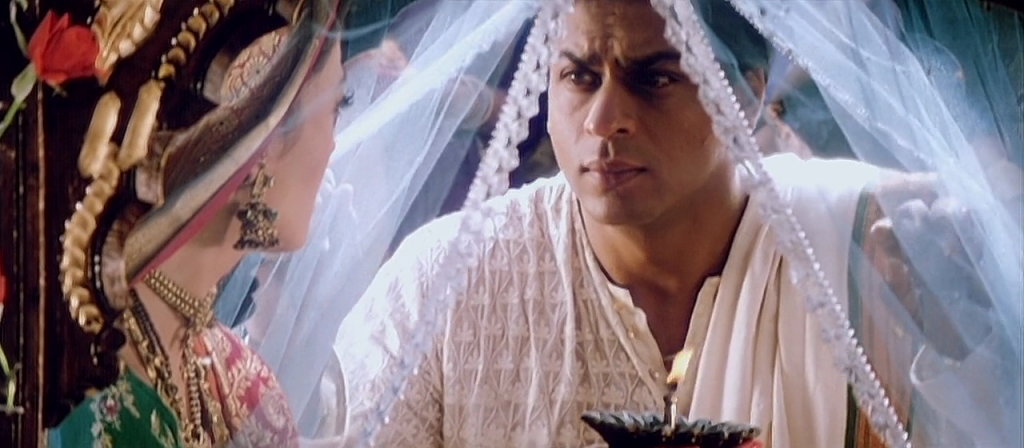 This part is so sad...
Visually, Devdas is breath-taking, in every frame, every details, nothing is misplaced. With Devdas, Sanjay Leela Bhansali proves he is not only a filmmaker but a painter giving life and motion to his pictures. Throughout the movie, there is a predominance of red/orange tones, which gives the visual atmosphere a vibrant feeling, vibrant is also the perfect word to describe Bhansali's work from the vibrant visuals, vibrant characters and vibrant story. There is an aura of greatness in every frame. In the end, the visuals serve the story, not the contrary. Not once the visual glory of Devdas makes you loose the touch with story.
The true greatness of the movie definitely lies in the story and the characters. Be it Devdas, Paro or Chandramukhi, they are all human, with their qualities and flaws; all those three characters cannot be called any less than complex characters. Devdas is a spoilt young man, arrogant and sometimes violent, but he is kind-hearted and loves Paro with all his heart. He is weak, but in the same time more human than most people around him. He will have to pay for his weakness all his life. Paro is this dignified and proud being, and as Devdas got a punishment for being weak, she will also be punished for her vanity. Then appears Chandramukhi, as the moonlight appears in the darkest of nights. She is a prostitute, and this illusion of her being a woman with no value in life disappears as soon as she takes care of Devdas, dutiful, generous and giving.
Shahrukh Khan is amazing as the tragic-lover Devdas, and gives us here the greatest performance of his career, I even think this is the best male performance from an actor ever. His Devdas is real. He is Devdas, in his every breath, every glance, every gesture, every word. Shahrukh brings an aura of grandeur in the beginning as a gentleman coming from London in the first half, before we can feel his suffering, in the second half of the movie, as if we are living it. Despite the character's flaws and mistakes, Shahrukh Khan makes us pine for him. Devdas is heartbreaking.
Paro - the celestial beauty
Aishwarya Rai is wonderful as the dignified and dutiful Paro. She has never been more beautiful than in Devdas. Her eyes are crystal-clear and delivers every emotions Paro feels: her love, her hopes, her braveness, her despair and her pride. There is a tremendous difference between the Paro of the beginning, and the Paro of the second half. Paro is first a young and stunning woman yearning for Devdas and dreaming of a marriage with him, but when she is wedded to a much older man than her, she lives her fate with dignity and (proud) silence. In the second half, she seems almost haughty, and possesses the aura of a real aristocrat; everything, from her glance to her standing, is regal. Her character is admirable.
Chandramukhi - the golden-hearted courtesan
But the heart-stealer is definitely Madhuri Dixit as Chandramukhi. Stunning and glowing like the moonlight, she first attracts your eyes and then you give her your whole compassion as Chandramukhi soon shows herself to be a gold-hearted woman, who gives her love and does not expect it in return. She knows Devdas will only love Paro, and only Paro, but she feels happy and grateful to have been touched by God's grace. In this way, she can only remind one of Meera, the famous poetress in love with Lord Krishna, who sung and danced her whole life to praise him. Chandramukhi is then definitely Devdas's Meera, as she dedicates her whole soul to him and worships him. She is also a strong and determined woman, who despite being a courtesan, possesses her self-esteem too. The scene where she slaps Kali-babu is one of the most memorable of the whole movie. Madhuri Dixit gives her whole soul to the character, and who cannot drown in her most expressive eyes?
Kahe Chhed Mohe - a pure and marvellous dancing moment
One cannot speak about Devdas without mentionning the soundtrack and the breath-taking dance numbers. Every track is marvellous and compliments the movie marvelously. No song is misplaced, and each of them serves the story. You fall in love with Shreya Ghosal's voice as soon as Silsila Ye Chaahat Ka starts playing. Morey Piya is beautiful, powerful story-telling of the love of Radha and Krishna, so is its picturization made of a shy sensuality. Kahe Chhed Mohe is magical and fantastic, it is to me the most beautiful dancing moment ever. Definitely the magnum opus of Madhuri Dixit when it comes to dance. Classical and Indian in every form. But one of the highlights of the movie is without doubt the extraordinary Dola Re Dola which demanded great dedication from both Madhuri and Aishwarya. The result is magnificent. Every steps, choreographed by Saroj Khan, is executed flawlessly. The dance is lively, and the colourful set adds to its splendor. We feel the emotions, the love and the friendship of Paro and Chandramukhi from every smile and gesture of them. Joy is written all over their faces. This is not too much to call Dola Re Dola the most stunning and greatest dance sequence in the history of Indian cinema.
Dola Re Dola - breath-taking in every sense of the term
In the end, Devdas is and will always be (to me) the summum of Sanjay Leela Bhansali's work. It is perfect in every frame, breathes life and tragedy, actually emotions is another great word to describe this movie. It captures feelings, and humanity perfectly. Two years after watching it for the first time, the shock is still the same. I still have the very feeling of this movie touching something greater than life. In the end, Devdas is much more than a cinematic work.
The eyes of pain...