Directed by Ram Gopal Varma
Starring:
Urmila Matondkar, Aamir Khan, Jackie Shroff
Released:
1995
My rating:
7/10
Mili (Urmila Matondkar) is a young woman from middle-class family but with big dreams in her eyes. Passionate about movies, she wants to make it big to the silver screen. Supported by her family and her best buddy Munna (Aamir Khan), a small-time black-marketer, she works on it and is soon spotted by one of the biggest film stars, Raj Kamal (Jackie Shroff). She is to make her debut movie opposite him, but as Mili clims the ladder to success and becomes closer to Kamal, Munna slowly realises his feelings for her...
Rangeela is one of the biggest hits of the year 1995, it also marks the music debut of A.R. Rahman in the cinema industry, who is now the achieved composer we know today. And the praise is understandable, the title-song will stay in your ears for a long time...
The plot might seem simple and is predictable, but it is heart-warming and endearing. One follows with sheer pleasure the whole story, the optimism of Mili and the bond she shares with Munna: most of their fighting-scenes are among my favourites! Points also goes to Rangeela thanks to its "filmi" atmosphere, it is always with delight to see cinematic mentions in an Indian movie, I think this is the greatest tribute one can do to their cinema. What makes Rangeela very special also is that it is centered on a heroine, in this case Mili, which is somehow unusual in Bollywood and a refreshing change, one must say.
Aamir Khan is very good as Munna, Mili's best friend, one can't help pining for him when he feels Mili is going away from him. Jackie is also good as superstar Raj Kamal, his sober acting was perfect for the character. But one reproach could be made to his character, who is not very developped: proof is that besides having lost his fiancée in a car crash, we don't get to know anything more about him. Another reproach would be that no change and difference can be seen between the Raj Kamal who used to grieve over his fiancée's death and the Raj Kamal who is in love with Mili. Jackie might not be to blame though, that is probably the script's fault.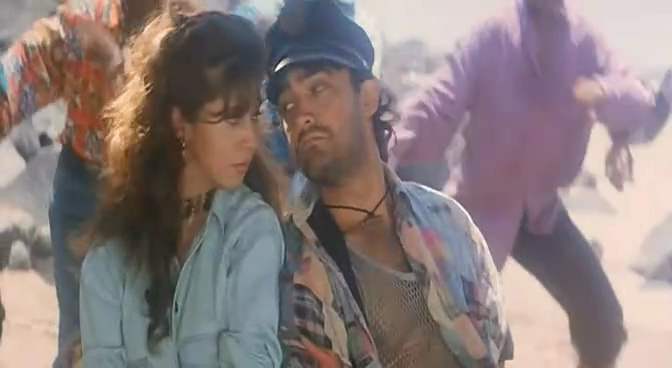 Mili and Munna -sweet, sweet and sweet!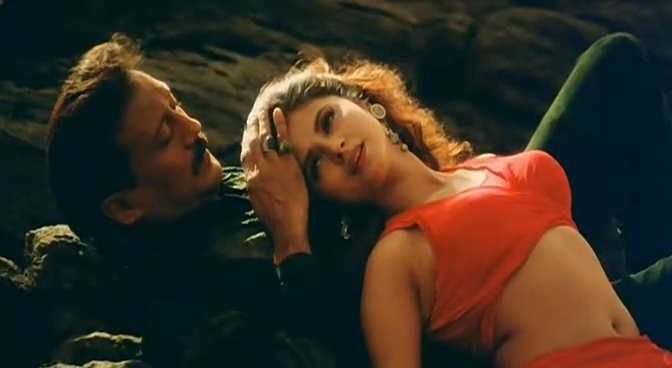 Mili and Raj Kamal - very filmi indeed!
But this is without doubt Urmila Matondkar who is the best here. She is incredibly natural as the vivacious Mili and greatly carries Rangeela on her shoulders. When this movie released, Urmila totally re-defined beauty criteria (and also probably introduced the infamous size-zero) but this is understandable: she possesses some kind of sensuality (and modernity for this time) without being vulgar at all.
Urmila being sexy!
In the end, Rangeela is a sweet and entertaining movie, predictable but without being boring at any places, thanks to good performances, a script mastered very well and a GREAT and catchy soundtrack!