Directed by Ashutosh Gowariker
Starring:
Priyanka Chopra, Harman Baweja
Released:
2009
My Rating:
4/10
Yogesh (Harman Baweja) is a modern young man, living and working in Chicago. The favourite of his grand-father, he is to receive his whole inheritance on the day he marries. Meanwhile, an astrologer predicts to the worried family of Yogesh that fortune is to fall on them. That is a comforting news for Yogesh's brother, Jitu, who has endless debts. To save the family from ruin, they call back Yogesh to India and ask him to marry. Yogesh, who has always hoped for a love-marriage, agrees when he realises the gravity of the situation. His brother shall pay his debts on the 20th of the very month, which leaves more than twelve days for Yogesh to find his soul-mate. By urgence, the latter then asks to meet twelve girls only (all played by Priyanka Chopra), one of each Zodiac sign, of each Rashee.
Will you choose Anjali (Aries)? - a friendly but insecure girl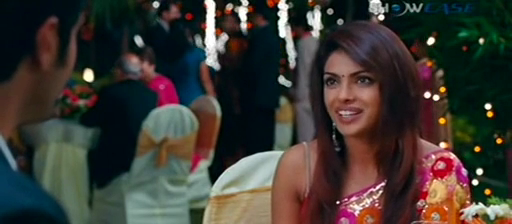 Or Sanjana (Aquarius)? A well-educated and gorgeous microbiologist, gifted with a cheerful nature
The movie has the credit of holding a record, the one of having played the most of characters in a single movie for Priyanka Chopra in the whole History of cinema. Pity this record is not hold in a much better made movie.
Kajal (Gemini) might be great also. She is fun, outgoing and VERY romantic. And she dances really well!
Or you might prefer the quiet and traditionnal Hansa (Cancer)? She has an amazing sense of honesty!
This is an Ashutosh Gowariker's movie though. And his filmography is amazing with movies like Lagaan, Swades and Jodhaa Akbar. But we shall not add What's Your Rashee to this glorious list.
Why? The main flaw is its length: 3h20 of screening, of Yogesh meeting twelve girls, every time in (mostly) the same way: the meeting with the family (most of the time), then time to know more about the girl, then a song... Yes, a song for every of the girls. That means: thirteen songs if we include the title song. And only one or two stand out, the others add to the slow-pace of the movie, I ended up fastforwarding them after a while...
Or perhaps you're rather business-like? Rajni (Libra) believes everything, even marriage, is a contract.


But well... if you're the dreamy kind of guy, then you can always dream of your past-life love with Chandrika (Pisces)?
Another flaw is also the plot to some extent. Other little "plots" are added to the main story, but all of them are uninteresting and add even more to the length. The characters are also rather cliché. Yogesh is a submissive boy, not once does he get angry at his brother for he is sacrificing his personal happiness because of Jitu's mistakes. And Harman Baweja does not add any subtility in the character with his rather, but how cute, expressionless face but we cannot say he is bad. Predictably, the twelve characters Priyanka is playing are also rather shallow, but that is only normal in a movie which have to introduce and deal with so many characters. I have to say I still do not understand how the characters were related to their zodiac signs in any way... because I did not see any similarity.
There is also Mallika, the stunning dancer. But beware, she's a Leo... Raawr!


But there are also ambitious and passionate girls like Nandini (Scorpio)...
...or caring and loving women, Pooja (Virgo) for example
The main cast has rather done a decent job, but Priyanka owns this movie throughout. She is the only reason you would need to watch this movie. She pulls off all her twelve roles with ease and makes all of them different. She proves she can carry a whole movie on her shoulders, but the fine actress that she is deserved much better...
You will love energetic, friendly and playful Vishaka (Taurus). She's a bit immature too
And you will be surprised by mysterious and spiritual Bhavna (Sagittarius)!


Well... there's also Jhanka (Capricorn)... Simple and quiet young girl...
Catch a pen and a piece of paper before watching the movie, you will need it, to catch up and remember all the names of the twelve characters... if you still care about which girl Yogesh will choose in the end, that is... through the endless story and songs...